Advantra Wealth in partnership with Ortec Finance have launched Amplify™ - the digital extension to your financial advisors. A Capex free, plug and play financial planning and investment solution for banks, building societies and wealth managers.
Total wealth control
Wealth management is on the cusp of digital disruption. Advantra is a huge leap forward. It is a single platform that puts high net worth individuals and banks in full control of their wealth and profitability.
Highly Advanced, Agile & Adaptive
"The ultimate in wealth management, personalisation, transparency and control."
Advantra delivers unrivalled value and benefits:
Digitises with
minimum investment
---
Allows private banks to digitise and implement solutions with minimum investment and pre-empts the banks' need for standardised, cloud based infrastructure
Reduces
operating costs
---
Reduces banks' operating costs without dis-intermediating Relationship Managers and Investment Advisors and paves the way for new pricing models without eroding profitability
Increases
revenue generation
---
Empowers client advisors and clients to take timely investment decisions, attract assets and improve their returns through fully customised investment solutions
Focused on
high value
---
An eco-system that enhances the differentiating capabilities of the banks, while automating and streamlining the commoditised parts of the front and middle office
Easy to
implement
---
Holistic, yet modular, with minimal integration into the bank's core infrastructure
Exceptional
user experience
---
Unique, sticky user experience based on deep customer insights translated into investment choices and delivered at the lowest possible cost
The Experience
Advantra is a highly evolved, yet simple, personalised and intuitive digital platform. An eco-system that empowers the banks and their clients.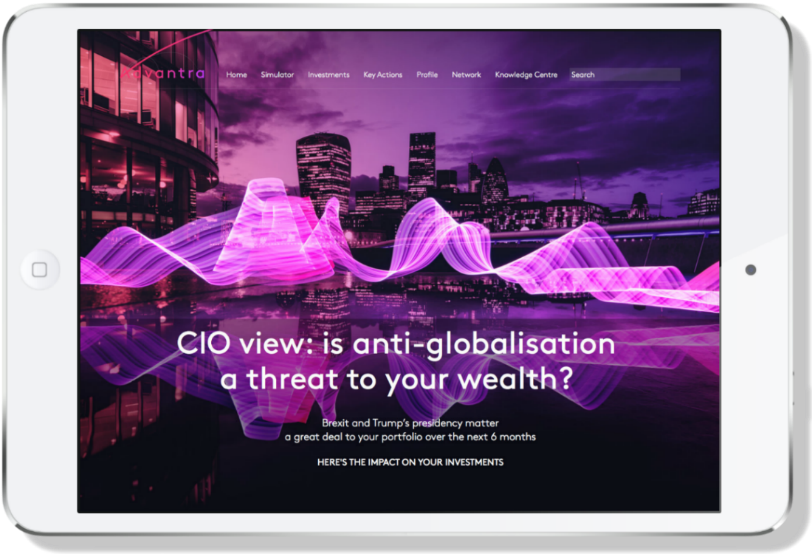 Get the bank's investment view for key market events, customised to client's portfolio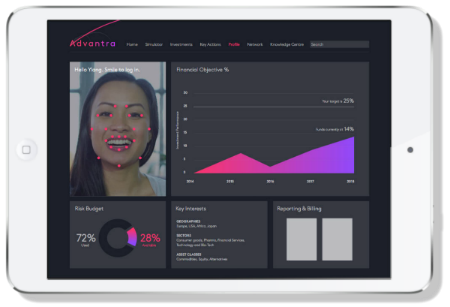 Client risk profiling using cognitive behavioural science, facial recognition and eye tracking technology to understand their financial literacy, preferred terminology, appetite for loss, financial decision making approach and determine risk budget and target portfolio.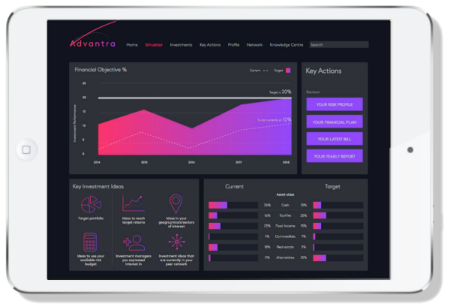 Intuitive view of portfolio and returns plus automated portfolio construction at fund and instrument level.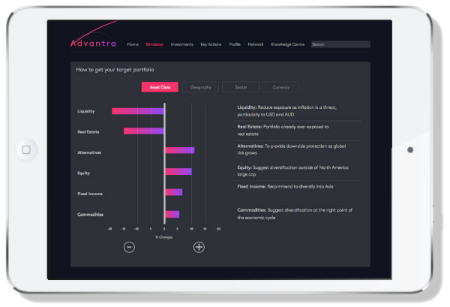 Easy to understand roadmap to target portfolio using machine learning, NLP, sentiment analysis and real tone to customise language and terminology to client's level of financial literacy and sophistication.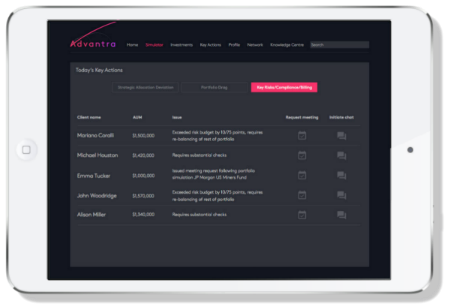 Advisor workbench to improve productivity and get the front office focused on client's specific issues in real time.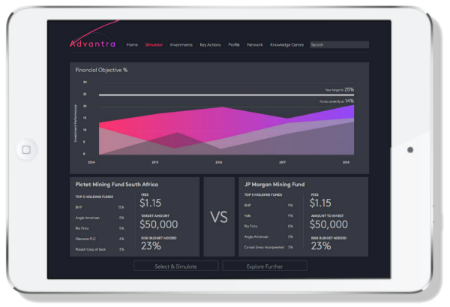 All investments are automatically pre-screened for fit with client's preferences, available liquidity, risk budget and expected returns.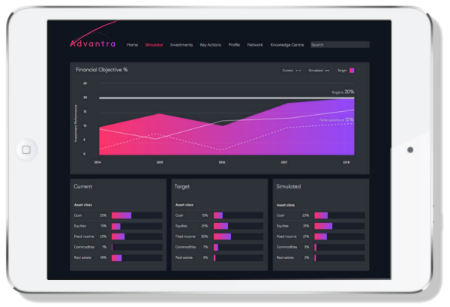 Simulation capability allowing client and adviser to assess impact of any fund or instrument on portfolio and returns.
---
See how Advantra changes the game for:
"It's plugging in the most advanced, intuitive, human, transparent and growth focused wealth management solution in the world."
"Advantra will be the digital backbone of the private bank of the future"
Executive Team & Founders
---
Anka Mandleson
---
Former Associate Principal at McKinsey&Company with 15 years of banking experience. Anka has worked with UBS, Credit Suisse, Julius Baer, HSBC, Barclays, Bank of America in US, UK, Switzerland, Germany, Spain, Asia and Latin America.
Expertise in:
Digitisation, market strategy, M&A and post merger integration, cost savings and restructure and front to back bank transformation.
Aaron Scott
---
UBS Head of Strategy and Product Specialist, previously at National Australia Bank. 15 years of corporate, asset and wealth management experience across US, UK, Switzerland, Australia and India.
Expertise in:
Strategy, investments, product development, talent management, performance measurement, finance, legal and risk.
Technology Partner & Advisory Board
---
Retro Rabbit are digital product experts with over 15 years in software engineering, design thinking, and data science. Having worked in every sphere from NGOs to FinTech, at every end of the digital lifecycle, Retro Rabbit has a wealth of experience. They have a reputation for high quality innovative software with a focus on delivery. Originating out of South Africa, they've begun expanding across Africa and Europe.
Core technical areas of expertise include:
Software Engineering, Design Thinking, Agile Processes, Cloud Development, Rapid Prototyping, Machine Learning, DevOps, Augmented Reality, Mobile & Web Development.
Ortec Finance is the leading provider of technology and solutions for risk and return management. It is our purpose to enable people to manage the complexity of investment decisions. We do this through delivering leading technologies and solutions for investment decision-making to financial institutions around the world. Our strength lies in an effective combination of advanced models, innovative technology and in-depth market knowledge. This combination of skills and expertise supports investment professionals in achieving a better risk-return ratio and thus better results.
Ashvin Sologar
---
Chief Operating Office and co-founder of Kalido, the global services marketplace for the trust economy ;previously Associate Principal at McKinsey&Company, leading the firm's technology related initiatives. He holds an MBA from Insead.
Expertise in:
Banking risk models, digitisation and technology implementation in banks and start ups
Mumtaz Naseem
---
Former Managing Director at Goldman Sachs and Deutsche Bank and partner at KPMG, Mumtaz has 17 years of experience in advising boards of FTSE 100 on strategy and capital raising, and has set up and led a number of digital advisory businesses.
Expertise in:
Tech investment funds and equity capital raising including IPO.
Nils Löhndorf
---
20 years consulting career with firms such as Capco, Deloitte, IBM and former investment banker (IPO and M&A for Fin-Tech) and with 30 years of banking and consulting experience. Nils has worked with UBS, Credit Suisse, Commerzbank, DZ Bank, Varma, British Telecom, Mercedes Benz.
Expertise in:
Digitisation, Robo Advisory, Fin- and Reg-Tech, Capital Markets, Trading Systems and Regulation.